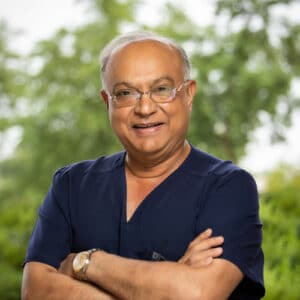 Personable. Professional. Experienced.
Since he began practicing medicine in 1980, S. Zubair Tahir gained extensive experience in laparoscopic procedures, general surgery, and emergency medicine. Dr. Tahir's expertise gives his patients confidence in his ability to take care of all their surgical needs.
King George's Medical University
Board-Certified
American Board of Surgery
Medical Degree
King George's Medical College,
Lucknow, India, 1973
Internships
G.M. & A.H. Hospital, Lucknow, India;
Worcester City Hospital, Worcester, MA
Residency
Sacred Heart Hospital, Norristown, PA
Fellowships
American College of Surgeons
Licenses
State of Arizona, State of Arkansas
Hospital Affiliations
Banner Baywood
Mountain Vista Medical Center
Tempe St. Lukes HospitaL
Central Arizona Endoscopy
Phoenix Spine & Joint Ambulatory Center
Providing The Highest Quality Of Care You Deserve
"My participation in professional organizations allows me many opportunities to learn about the advancements being made in the medical field, and staying involved plays a major role in that process. I do this so I can continue to give my patients the best possible care."
– DR. TAHIR
Why Choose
Tahir Surgical Clinic?
Treatment shouldn't be put off simply because of financial reasons when care is desperately needed. That's why Dr. Tahir and our dedicated staff at Tahir Surgical Clinic work with you to make sure you get the care you need when you need it.
We're committed to making your visit comfortable and enjoyable, especially when you're not feeling your best.
Our staff is here to assist with any questions you may have. Don't hesitate to reach out to discuss your symptoms, treatment options or cost. We treat every patient and inquiry with the utmost professionalism.
Top-Rated Surgical Clinic in the East Valley