EGD and Upper
Gastrointestinal
Treatment
Dr. Tahir has several years of experience treating different types of upper gastrointestinal conditions, including heartburn, acid reflux, gastric ulcers, helicobacter pylori, dysphagia (or difficulty swallowing), hiatal hernia, and more.
Many of these conditions can be diagnosed and treated with medication. Diagnosis will most likely be done by performingan esophagogastroduodenoscopy (or EGD).
What is an EGD
(esophagogastroduodenoscopy)?
EGD is an endoscopic procedure performed in an endoscopy center that allows a doctor to examine your esophagus, stomach, and duodenum (part of your small intestine). It's an outpatient procedure, meaning you can go home that same day.
It takes approximately 30 minutes to perform an EGD and is done under IV sedation. Biopsies may be taken during the procedure and results are discussed with you during a follow-up exam in our office approximately 5-7 days after.
If you're experiencing symptoms of an upper gastrointestinal disorder. When your symptoms begin to affect your daily life. If you find yourself making accommodations to get through the day, it's time to consult a specialist at Tahir Surgical Clinic.
Hiatal Hernia
and Treatment
Also called hiatus or diaphragmatic hernia, a hiatal hernia is a condition in which part of the stomach pushes up through the diaphragm muscle. With this type of hernia, part of the stomach pushes into the chest cavity through the esophagus, where food passes on its way to the stomach.
Hiatal hernias can have no symptoms. In some cases, they may be associated with heartburn and abdominal discomfort. Hiatal hernias may not require any treatment, some are treated with medication, and a few types need surgical repair.
When is heartburn serious enough to require treatment?
Heartburn, or burning pain or discomfort in the upper chest and mid-chest, can sometimes be a symptom of other conditions. These include gallbladder disease, pancreatic disease, hiatal hernia, anxiety, stress, poor eating habits, overeating, alcohol consumption, and spicy foods.
You can never be too sure, so it's best to consult a doctor if you have any concerns your heartburn may be related to another medical condition.
At Tahir Surgical Clinic, we accept most insurance providers, including most PPO, HMO, and AHCCCS plans. Self-pay options are also available.
READ MORE
In the event you don't have insurance or treatment is not covered under your current provider, Dr. Tahir doesn't turn away patients. We'll work with you to find a solution and get you the help you need!
MINIMIZE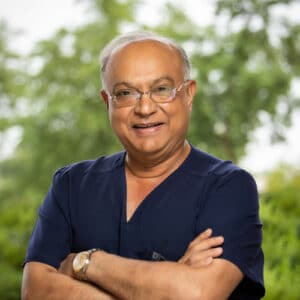 Dr. Tahir is an American Board of Surgery Certified Surgeon in Mesa, AZ with expert level experience treating patients with a hernia, various upper GI issues, and a wide range of conditions. He was among the first surgeons in Arizona to perform laparoscopic surgery and is also certified in robotic surgery.
Why Choose Tahir Surgical Clinic?
We offer quality treatment at a reasonable price. It sounds simple (and it is!) but our staff also works extremely hard to maintain a comfortable setting for our patients.
Learn more about what sets Tahir Surgical Clinic apart from the rest!

Top-Rated Surgical Clinic in the East Valley