Colon Diseases & Colorectal Cancer Treatment
The first step is to reach out for a consultation.
Colon diseases affect patients in many ways. Cases of colon disease and colorectal cancer range from mild to severe, which is why Dr. Tahir takes the time to address all of your concerns when diagnosing and evaluating your symptoms.
Every patient matters at Tahir Surgical Clinic and everyone is treated with compassion and thoroughness. Dr. Tahir does his very best to give his patient as many treatment options as possible, starting with the least invasive and progressing from there if needed.
What causes colorectal cancer?
Most colorectal cancers begin as small precancerous polyps. These polyps usually grow slowly and do not cause symptoms until they become large or cancerous. Chronic inflammatory diseases of the colon, such as ulcerative colitis and Crohn's disease, can also increase your risk of colon cancer. Only a small percentage of colon cancers are linked to inherited genes.
With knowledge of the signs and awareness when you are at high risk for colon cancer, you can help your doctor detect cancer early with routine screenings.
At Tahir Surgical Clinic, we accept most insurance providers, including most PPO, HMO, and AHCCCS plans. Self-pay options are also available.
READ MORE
In the event you don't have insurance or treatment is not covered under your current provider, Dr. Tahir doesn't turn away patients. We'll work with you to find a solution and get you the help you need!
MINIMIZE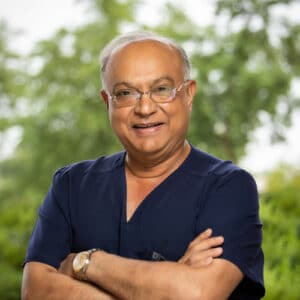 Why Choose Tahir Surgical Clinic?
We offer quality treatment at a reasonable price. It sounds simple (and it is!) but our staff also works extremely hard to maintain a comfortable setting for our patients.
Learn more about what sets Tahir Surgical Clinic apart from the rest!

Top-Rated Surgical Clinic in the East Valley