About Tahir
Surgical Clinic
Bringing Surgical Excellence to Arizona
Experienced, patient-centered care is the foundation of Tahir Surgical Clinic.
Dr. Zubair Tahir is a general surgeon in Mesa, Arizona who has dedicated his entire professional career to providing patients with the most advanced surgical treatments available for a wide range of conditions.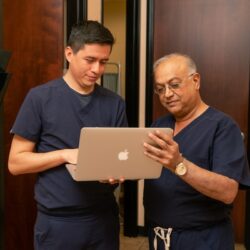 "When I decided to go to medical school, I put my heart into it…"
Dr. Tahir performs minor procedures in his clinic whenever possible and minimally invasive surgery, also called laparoscopic surgery, in hospitals where he's an affiliate. More than a skilled hand, Dr. Tahir also provides the personal care and attention you need when seeking medical treatment.
Why Choose Tahir Surgical Clinic?
We're committed to making your visit comfortable and enjoyable, especially when you're not feeling your best. When care is desperately needed, treatment shouldn't be put off simply because of financial reasons.
That's why Dr. Tahir and our dedicated staff work with you to make sure you get the care you need when you need it. Learn more about what sets Tahir Surgical Clinic apart from the rest!
Our staff is here to assist with any questions you may have.
We treat every patient and inquiry with the utmost professionalism. Don't hesitate to reach out to discuss your symptoms, treatment, cost, and more.
Top-Rated Surgical Clinic in the East Valley