Hernia Surgery
and Treatment
Dr. Tahir has been performing hernia surgeries for over 40 years and is up to date on the latest methods and treatments. Hernias are a common problem, but recovery time is minimal with techniques like laparoscopic surgery.
If you're experiencing symptoms of a hernia, Tahir Surgical Clinic is here to help. Contact us today to schedule your appointment.
Are hernias more common in males or females?
Simply based on their anatomy, it's more common for men to develop hernias.
Can lifting something heavy cause a hernia?
Heavy lifting or any activity that increases the pressure on the tissue and muscles in the belly wall may cause or aggravate a hernia. This includes straining during urination or bowel movements, excess weight gain, and chronic coughing or sneezing.
At Tahir Surgical Clinic, we accept most insurance providers, including most PPO, HMO, and AHCCCS plans. Self-pay options are also available.
READ MORE
In the event you don't have insurance or treatment is not covered under your current provider, Dr. Tahir doesn't turn away patients. We'll work with you to find a solution and get you the help you need!
MINIMIZE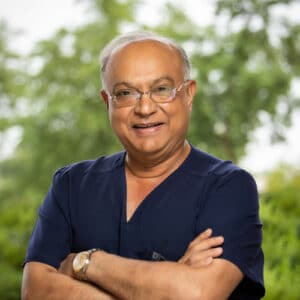 Why Choose Tahir Surgical Clinic?
We offer quality treatment at a reasonable price. It sounds simple (and it is!) but our staff also works extremely hard to maintain a comfortable setting for our patients.
Learn more about what sets Tahir Surgical Clinic apart from the rest!
Top-Rated Surgical Clinic in the East Valley