Hemorrhoid Treatments and Surgery
You should seek treatment for hemorrhoids when your symptoms begin to affect your daily life. If you find yourself making accommodations to get through the day, it's time to consult a specialist at Tahir Surgical Clinic.
Contact us today to schedule an appointment.

Hemorrhoid Clinic of Arizona at Tahir Surgical Clinic
There are four grades of hemorrhoids and not all require surgery.
The good news for people suffering from hemorrhoids is that Dr. Tahir is an expert in performing advanced, minimally invasive procedures that eliminate the need for painful surgeries, like hemorrhoidectomies.
Some patients will receive treatment on the same day as their consultation, but all other acute hemorrhoid or rectal problems are treated with urgency by Dr. Tahir.
Don't Hesitate to Call Us
We know hemorrhoids are a sensitive subject and patients are typically embarrassed to call us, but there's no need to be nervous. We're here to help you get relief!
One of the most common ailments among adults…
Hemorrhoids are so common that about half of all people will have them by age 50.
You're not alone, seek the care of a specialist today to determine the best treatment option for you. There's no need to suffer in silence!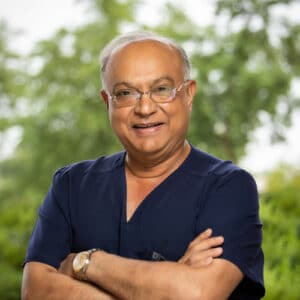 Surgical excellence is the foundation of Tahir Surgical Clinic. Dr. Zubair Tahir is an American Board of Surgery Certified Surgeon in Mesa, AZ who has dedicated his entire professional career to providing patients with the most advanced surgical treatments available for a wide range of conditions.
Hemorrhoid Treatment During Pregnancy
Pregnant women often require hemorrhoid treatment, typically in their third trimester. It's also common for women to seek treatment after childbirth when the extra stress and pressure on the pelvic floor results in hemorrhoids.
At Tahir Surgical Clinic, there's always a woman resident in the room with Dr. Tahir when he's treating a female patient. We do our very best to make you feel as comfortable as possible during your visit.
Benefits of Choosing the
Hemorrhoid Clinic of Arizona
Whenever possible, Dr. Tahir uses Infrared Coagulation (IRC) to treat hemorrhoids, which is a minimally invasive, non-surgical option that uses light therapy to shrink the swollen veins or blood vessels.
There isn't a "cure" for hemorrhoids, including surgery, that guarantees you won't develop them again in the future but IRC can provide long-term hemorrhoid relief.
Here are a few more benefits to choosing the Hemorrhoid Clinic of Arizona:
We schedule most appointments within one to three days after contacting us, oftentimes even same day.
We accept most insurances providers.
Affordable Hemorrhoid Treatment
Quality treatment at a reasonable price.
Certified by the American Board of Surgery.
Why Arizonians Choose Tahir Surgical Clinic
We offer quality treatment at a reasonable price. It sounds simple (and it is!) but our staff also works extremely hard to maintain a comfortable setting for our patients.
Learn more about what sets Tahir Surgical Clinic apart from the rest!
Top-Rated Surgical Clinic in the East Valley